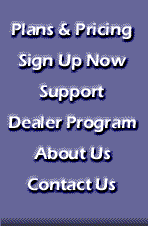 Anonymous FTP

Enabling anonymous FTP allows visitors to access your web site to upload and/or download files without a unique id and password. By controllable anonymous FTP, we are referring to an environment whereby anonymous access can be limited to specific files and directories.
Autoresponders reply to incoming e-mail automatically. An autoresponder could be used to send a standard text file to persons addressing, say, info@yourname.com. If you've ever received a response to an e-mail which suggests that the recipient is away from the office, you may have received such an automated response.


All Warp Speed Hosting plans have access to a personal cgi-local directory in which you can place your own custom CGI scripts. CGI scripts are often used to accomplish tasks which are not supported by basic HTML such as a "hit" counter or guest book. This directory can be used to set up scripts that you write or find elsewhere on the web.


All users have access to a web-based Control Panel which allows you to set mail forwarding options, autoresponders, POP accounts, view statistics and more.


CyberCash enables you to securely process credit card transactions 24 hours a day, seven days a week to a new global marketplace. CyberCash works with all the popular browsers, as well as the majority of Internet hardware, software, servers, communication protocols, and web store applications.


In general, any outward bound traffic from a web site, with the exception of e-mail, is considered to be data transfer. For example, each time a web page, image, midi file, quicktime video, etc. is loaded, data transfer is generated. Each of our plans includes a generous amount of free data transfer which should be more than enough for most sites. In fact, 98% to 99% of our customers operate within their free data transfer allowance. Additional data transfer beyond the threshold will incur a small charge.


Disk storage space refers to the amount of server disk storage specifically allocated to your account. This space is used to store your html files, graphics, audio clips, POP mail messages, pdfs, and other files that make up your web site. Each of our plans includes a specified allotment of disk storage space, but additional space can be purchased for any account in 5MB blocks at a cost of $1/MB per month.


We offer virtual domain Web hosting accounts which means you can have your own Web address or "domain name" (eg: www.yourname.com). We can handle U.S. domain name registration or transfers on your behalf. (ie: .com, .net, .org, etc.). The InterNIC charges $70 to register a domain name which covers the first two years. They currently bill at a rate of $35 per year thereafter.

We can also serve non-U.S. domain names as well. We can provide you with the appropriate nameserver and technical contact information to assist you in registering a non-U.S. domain name with your local NIC.

You can also have additional domain names point to your account for a small additional charge.
Excite is a new generation of web navigation. It gives your web site the same advanced search capabilities used by the Excite service, allowing visitors to search your web site using keywords or concepts.


You will have unlimited access to your account via FTP 24-hours a day to set up and maintain your web site. You can work on HTML documents, graphics, and scripts locally and then upload files to your web site when ready. An FTP tutorial and client software is available in our online support.


We can install Microsoft FrontPage extensions for your account. This allows you to use the easy-to-use Microsoft FrontPage program to create and maintain your web site. You may request that FrontPage extensions be installed within your web site when placing an order for domain web hosting services or contact our support department directly. Microsoft provides direct support for all FrontPage users.

Once your domain name is active worldwide, you can receive all e-mail addressed to your domain such as webmaster@yourname.com, sales@yourname.com, etc. By default, all e-mail addressed to your domain will forward to your real e-mail address provided by your local internet provider. For convenience, specific mail forwarding options are available if you need specific addresses each to be forwarded to different addresses on the internet. For example, e-mail addressed to webmaster@yourname.com could forward to an account at AOL, but sales@yourname.com could forward to a Prodigy account.


MySQL, is a lightweight database engine designed to provide fast access to stored data. We provide the tools to create a searchable database. In most instances, custom programming (commonly Perl or PHP) is needed to implement a fully functional web-to-database interface.


In addition to mail forwarding, users have the option to retrieve e-mail directly from POP3 mailboxes on the mail server using an email program such as Eudora. Each of our plans includes a Master POP account which can receive all email and control the settings for any optional configurable POP accounts. Each of our plans also offers a specified number of configurable POP accounts. The additional POPs can be assigned unique ids and passwords to ensure privacy. You can also purchase additional POPs if needed.


Real Networks' RealAudio system is a client-server based streaming media delivery system for the Internet. Providers of news, entertainment, sports, and business content can create and deliver audio-based streaming multimedia content through the Internet to audiences worldwide. We not only provide the server extensions but also include step by step instructions to include RealAudio in your web pages.


A Shopping Cart program allows you to implement your own on-line storefront. The shopping cart keeps track of what visitors have ordered and allows them to add or remove items from a 'virtual shopping cart'. When a visitor decides to check-out, the order information including the buyer's name, address and billing instruction is e-mailed to the site webmaster and a receipt is sent to the shopper. Our unix Corporate Plan and above include a pre-written Shopping Cart script that you can customize for your use. A demonstration and extensive documentation are available.


SSL (Secure Socket Layer) allows users to collect data such as credit card information in a secure environment. Information submitted via a secure form is sent to the server in an encrypted mode. Users may choose to research methods such as encrypted email (PGP), CyberCash, or other solution for retrieving such information from their web sites.


We give you a choice of using MKStats1.0, MKStats 2.1, or Analog to track your web usage statistics such as what domains are accessing your web site, how many "hits" you are getting, how much data is being transferred and more. In addition, we give you direct access to your raw log files so you can analyze your statistics with other more full-featured programs.


TrueSpeech is a high quality speech compression software which compresses speech down to as much as 1/40th its original size. Since regular speech files are normally large, compression using TrueSpeech enables them to be transferred faster and more easily. Support for TrueSpeech real-time audio is available for use in your web pages.


Volano Chat is a real-time, live chat interface you can quickly and easily add to your web site. It is written in JAVA so it is compatible with the vast majority of web browsers without the need for any plug-ins.

© Copyright 1998 - 2000 Warp Speed Hosting Services - All Rights Reserved